Contact Information:

TAZMO Inc.
42840 Christy St.
Suite 103
Fremont, CA 94538
(510) 438-4890
eMail: Sales
eMail: Service

For our European partners, please visit www.teltec.com

Back to Product Listing
Spinless Coater / LCD Manufacturing Equipment
TAZMO develops and manufactures equipment for the LCD panels used in notebook PC's Televisions, Medical and other equipment.

Among our products, the spin coater in the color filter manufacturing process boasts the leading share of the world market.

We have overcome the problems associated with increased substrate size to achieve lower costs, space-saving capabilities, and highly accurate processing.
| | |
| --- | --- |
| | Over 800 systems sold worldwide (TAZMO currently owns over 70% of world market share) |
| | New 10th generation (2850 x 3050mm) flat panel equipment available. |
| | Chemical Spinless coater based on the ultra-precise extrusion coating, promises to drastically reduce chemical CoO |
TR117000 Series (1950 x 2250mm)
| | | |
| --- | --- | --- |
| | | This coating system can handles large-size rectangular substrates of up to 1950 x 2250 mm. Using a spinless® unit with a proven track record, this coating system delivers further improvements in performance. In addition to handling larger substrates than ever before, the system reduces the use of resist, other fluids and provides saving in energy and space. |
TR90000S Series (1500 x 1850mm)
This coating system handles large-size rectangular substrates of up to 1500 x 1850 mm. Like TR63000 series, a rotating cup and EBR units are eliminated to achieve a simplified process and significant reduction of resist consumption; thus enabling the handling of larger substrates with substantially less running cost.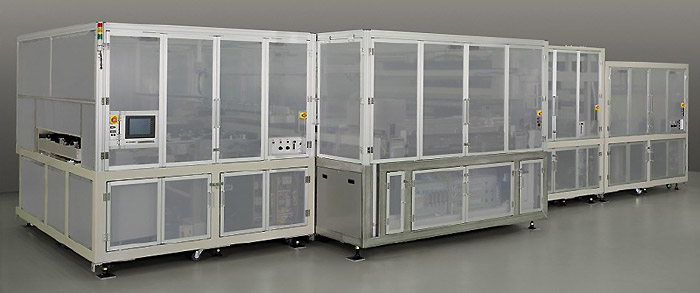 Enlarge image
top